The information below is obtained from the IBC website. The most up to date information can be obtained directly from their website here.
Wildfire in Fort McMurray and Surrounding Area
Frequently Asked Questions (Abridged, Full PDF Here)
What does my insurance cover?
Virtually every home insurance policy covers damage caused by fire, even if the fire began on a neighbouring property, as long as the fire was not started intentionally by the insured.
Damage to vehicles from fire is usually covered if comprehensive or all perils auto insurance has been purchased. This coverage is not mandatory, so check your policy.
I don't know who my insurer is. How can I find out?
If you provide IBC with your name, address and contact information, we can send that to insurance companies and brokers. They'll search their files to see if you have a policy with them. Once your insurer finds your policy, they will contact you. You'll just need to sign a consent form to acknowledge that you've given IBC your personal information and that we will not share it or keep it for any other purpose.
Will I be covered for the spoiled food in my fridge and freezer?
Typically, a homeowner's policy offers a specified coverage limit for freezer food, but not coverage for refrigerated food.
Will a landlord's policy cover uninsured tenants?
No. A landlord insures only the building and appliances. The personal property of tenants is theirs to insure on their own.
I thought "acts of God" were excluded from insurance policies?
Contrary to popular belief, there is no such thing as an act of God exclusion in any property insurance policy in Canada. In fact, insurers routinely pay for damage resulting from natural disasters, including windstorms, rain, hail or wildfire.
I've heard my claim may be denied if I don't file right away. Is this true?
No. The bottom line is that this is not true. There is misinformation circulating that if you don't get your claim in immediately, you are not going to be covered. Obviously it is important to get the claims process started early, but you will absolutely be covered. Always keep receipts and contact your insurer as soon as you can. The additional living expenses (such as accommodation, food, laundry) for which you are covered start from the date of evacuation.
Important Insurance 101 Documents: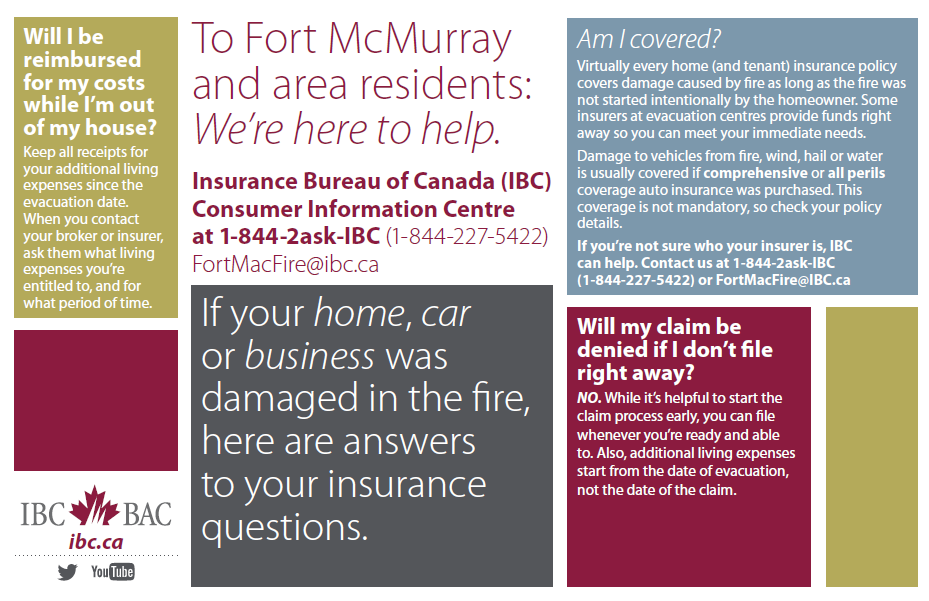 Download the above infocard above here (pdf).
Setting the record straight:
If I enter my property without an adjuster present, will my coverage be voided?
As long as it's safe to do so and the evacuation order has been lifted, you are free to enter your property with or without an adjuster present. Entering on your own will not void your claim.
Fact Sheets
Resources
Anyone with questions should contact their insurance representative or for more information contact IBC's Consumer Information Centre at 1-844-2ask-IBC. Consumers can also direct emails to FortMacFire@ibc.ca.
For more information, consumers can also visit www.ibc.ca.